«Ресторан вкусной еды»
DEMONSTRATION OF THE COMPONENT ON JOOMLA 4:
Template in 1 column: https://joomla4.iws.by/en/simple-restaurant-menu-for-joomla-in-one-column/
Template in 2 columns: https://joomla4.iws.by/en/simple-restaurant-menu-for-joomla-two-columns/
DEMONSTRATION OF THE COMPONENT ON JOOMLA 3:
Template in 1 column: https://joomla3.iws.by/en/simple-restaurant-menu-for-joomla-in-one-column/
Template in 2 columns: https://joomla3.iws.by/en/simple-restaurant-menu-for-joomla-two-columns/
Soups
Soup is the key to a healthy diet. The menu of the restaurant offers the most delicious and healthy first courses.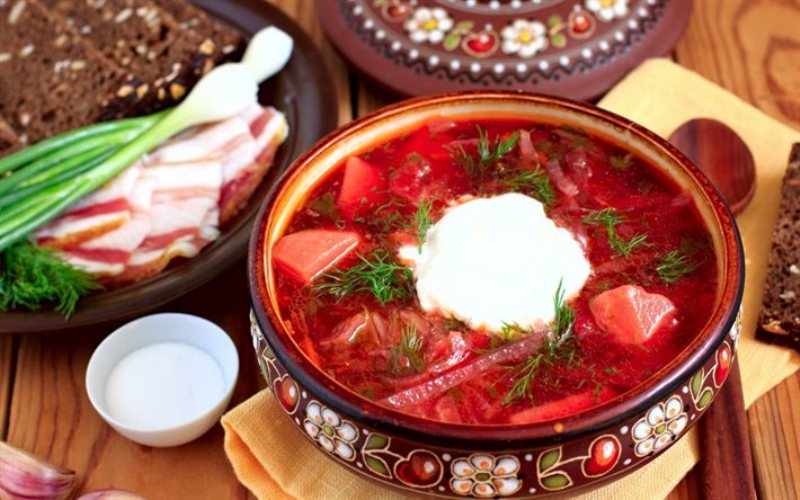 Borscht with beef
8 oz.
10 $
When ordering two servings of borscht, sour cream as a gift.
Beef broth, boiled beef, potatoes, cabbage, beets, spices, herbs. Served with sour cream.
Meat Hodgepodge
8 oz.
7.99 $
Magnificent hodgepodge made according to the traditional recipe with smoked meat, pickles and olives. Served with lemon and sour cream.
Cream of mushroom soup
8 oz.
12 $
Cream of mushroom soup and cream. Served with croutons of white bread. 
Seafood soup
8 oz.
9.99 $
Soup of scallops, shrimp, mussels, squid, salmon with tomatoes and fresh basil.
×
Appetizers
Hot appetizers are amazingly delicious and very pretty! They are more filling and are great for whetting the appetite before the main course.
Roast chicken
10 oz.
12 $
Prepare a delicious roast chicken thighs in a pan. The meat is roasted with vegetables and then stewed with roasted potatoes in broth.
Sudak with vegetables
10 oz.
13.99 $
Baked pikeperch fillet with aromatic celery, onions, zucchini, juicy carrots and bell peppers.
Tabaca chicken
11 oz.
15 $
Order tobacco chicken from 1 to 2 p.m. and get the garlic sauce for free.
Chicken cooked with an abundance of spices in a pan, seasoned with tkemali sauce.
Pork loin fried on an open fire, served with onions and herbs on pita bread.
×
Salads
A team of professional chefs is responsible for the quality and serving of food in our restaurant.
Caesar with chicken
11 oz.
9 $
If you order three servings of salad, the fourth is free.
Crispy lettuce leaves, smoked chicken, cherry tomatoes, name sauce, parmesan cheese, croutons.
Potatoes, ham, carrots, green peas, pickles, chicken eggs, mayonnaise, mustard, spices, dill.
A classic salad of bell peppers, tomatoes, cucumbers, red onions, olives, olives, feta cheese and croutons.
Mimosa salad
11 oz.
12.99 $
The salad is served on a common plate. Canned fish, boiled potatoes, boiled carrots, chicken egg under a coat of mayonnaise sauce, decorated with cherry tomatoes and greens.
×